Best Wallets for Men
In considering the best wallets for men, some may remember the wallet used by Jerry Seinfeld's friend George Costanza. As a totally beaten-up leather bifold wallet, it was so huge that it was actually inflicting pain on George.
And no wonder. George had coupons that had expired years earlier, money from a foreign country that he couldn't spend, and even some sweet and low packets that he had pilfered years earlier. No matter whether he would put it in his front or back pocket it was a gigantic mess that was destined to have a catastrophic end. And it did.
You don't need to be a George. It is helpful to have a good idea of your options. The best men's wallets are available to you today.
Materials Used in the Best Men's Wallets
Metals
Most credit cards and ID cards now have an RFID chip in them that stores all kinds of data about the card. This data is reachable by portable scanners operated by bad guys.
To block these scanners aluminum and steel envelopes around the cards are the only way to have true security. The problem at first glance is the weight metal adds to a wallet.
Manufacturers have figured out that the same materials used in airplanes work just as well in wallets. They protect the card's RFID chip from scanners and add minimal weight. Metal on the exterior also works to repel moisture and protect contents from bending.
Metals are also used in any clasps designed to hold the wallet together for both protection and to retain the contents. The best brands make their clasps to last for eons.
Titanium
Surprisingly affordable, often blended with aluminum, this metal is valued for its durability and silver luster. With a hardness that is difficult to beat, this material is designed to last for ages even if it is subject to all kinds of abuse.
Carbon Fiber
A very trendy and very practical exterior material for wallets is carbon fiber. Basically indestructible, carbon fiber even resists scratches, and the black matte or gloss finish is prized for its strong image.
Leather
There is nothing quite like leather to provide a distinguished and professional look to a wallet. While it does add to costs, it should wear to a fine look over many years.
Synthetics
While vinyl and other plastics will save money they don't hold up over the long haul. These materials are fine for the interiors but are a distinct cut below the quality of other exterior materials.
Combinations
Some designs are searching for the best of all worlds. Aluminum with a leather cover. Titanium alloys with aluminum.
The key with combinations is to try and get that RFID protection from metals with a softer look preferred by some consumers. In addition, some patterns on exteriors will work better with certain combinations.
Top 10 Styles of the Best Mens Wallets
Men's wallet brands have undergone a tremendous evolution from the seemingly timeless style of your grandfather's leather wallet. Now, you have a tremendous range of choices driven by changing consumer preferences, intrusive technology used by bad guys and the use of new, premium materials to make a style statement.
1) Minimalist Wallets (RFID Wallet)
Credit cards with chips carry an amazing amount of data about the user. This data can be exposed by even amateur identity thieves who use portable scanners.
Subcategories
Card Holders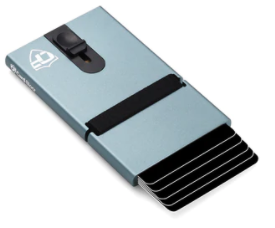 With options that include clips for cash these super slim wallets are the perfect front pocket carrier of a few cards that are protected from scanners.
Card Wallets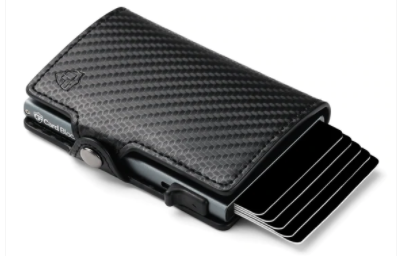 Room for cash and cards, these come as bifold or trifold (see below) wallets. Also very slim, these come in all kinds of attractive combinations.
As men have woken up to this threat, minimalist wallets have exploded in popularity made with RFID blocking technology (often lightweight aircraft grade aluminum or steel) and all the important features found in a quality wallet for men.
Features
The features for this wallet could include:
Slots to hold up to eight cards.

A pocket for cash.

Room for your ID.

A slim wallet profile making it either a back or front pocket wallet.

Optional premium leather accents and/or covers.

Many color and pattern options like any other designer wallets for men plus new age options like carbon fiber.
Who Should Buy Minimalist Wallets?
The ultimate minimalist wallet for men not only features RFID blocking giving the owner all the protection needed to foil fraudsters, but they also hold your essential cards and folded bills making this a good looking everyday carry. Use this perfect wallet everywhere from the coffee shop to date night to the office.
2) Bifold Wallet (Leather Wallet)
As the name implies, a bifold wallet folds once and is often a leather wallet but increasingly faux leather is being used to save manufacturer's costs. They are sometimes referred to as a billfold wallet.
A high-quality leather wallet continues to escalate in price, but even lesser quality leather wallets have seen prices climb. Even the best leather wallet with the finest leather available is not usually a true RFID blocking wallet.
Features
Features possibly found in a bi fold wallet include:
Real leather exterior for enduring elegance.

Depending on the amount of stuff being carried, it should rank up there with the slim wallets so desired by new wallet buyers.

As many as eight card slots or slip pockets - sometimes more.

A coin pocket.

Room for more than just the absolute essentials such as pictures or odd shaped ID's or cards. Sometimes two cash pockets allow carrying coupons or other items.

Usually brown or black leather is the range of colors available.
Who Should Buy a Billfold Wallet?
Men's wallets like these are generally seen as rear pocket only models, but in theory, could be stored in a front pocket. With phones taking over some functions of men's wallets like payments and digital storage of coupons and photos, the need to have all your essentials in an irreplaceable wallet is continuing to decline.
If you have lots of "George style" stuff to carry with you, a bifold makes sense. They will have the look of a designer wallet and flexible storage inside.
3) Trifold Wallet
A trifold wallet is another common category of men's wallets. With two folds, these will often feature premium leather so as to hold up for the long term. These are not slim wallets generally speaking.
Features
Features that are frequently found in these men's wallets include:
Plenty of card slots.

A cash pocket.

ID window.
Who Should Buy a Trifold Wallet?
Sometimes carrying a more value oriented, affordable price, trifolds are very practical if not stylish choices for wallets for men. The best wallet in this category may or may not have high grade leather.
The guy who carries up to seven cards (or even more in some cases) will want to take a long look at these due to the large number of credit card slots.
4) Key Wallet
Some men carry a bunch of keys but maybe not so many credit cards. With various metal hooks inside what is usually a leather wallet, this kind of wallet will shelter your pants pockets from the ravages of multiple metal keys trying to explode through the bottom of your pockets.
Features
Features that often are found in this kind of wallet include:
Hooks, loops or clasps to hold a number of keys.

Space for some cash.

One or two slip pockets for an ID and or a credit card or two.
Who Should Buy a Key Wallet?
If that key ring with a dozen keys drives you nuts, then this is the wallet for you. The one thing to watch out for is if the wallet can handle any of the thick key fabs being used for many cars now. They may not fit on the loops in this variety of wallet.
5) Money Clip
Money clips can take on a number of different forms. But the key is an easy to access place holding cash. The first cousin of a money clip is a cash strap which simply clips cash to the outside of a wallet.
A money clip might be a bifold style where it has a pocket able to carry a few items. A card holder type has some card slots and maybe an additional pocket. The card holder variety is a bit more common.
A money clip can hold cash in several different ways. Sometimes there is a flap that holds the money by clasping it close to a pocket with pressure.
Other models may have a magnet that holds the flap. It is important that this flap is secure as there is little practical value to a money clip that can't reliably hold money.
Features
You can expect to have many of the following features in this category of wallet:
A sleek money clip that firmly holds cash yet is easy to access.

Possibly a card holder slot or two.

A pocket for your ID.
Who Should Buy Money Clips?
If you find yourself regularly carrying cash and want easy access to it, this type of wallet is made for you. Ignore this category if you have fully embraced a cashless society.
6) Long Wallet
The long wallet is designed to slip into the inside pocket of a suit or sport coat without adding bulk or a bulge to a man's shape. As a result, money lays flat, usually in a single pocket, and there are no folds whatsoever.
Features
This ultra slim sleeve of this wallet has several attractive features:
A super slim profile.

A single pocket for cash and because it lays flat, there is room for a number of bills but not generally for any coins.

A few card pockets but generally not a large number.
Who Should Buy a Long Wallet?
This stye is not much use to you unless you wear suits or sport coats on a regular basis. You could slip one of these into a back pocket if you had to, but it will likely stick out and be highly vulnerable to theft.
7) The Hipster
Basically, this a bifold wallet on steroids. While it only folds once, it is oversized to be able to handle many credit cards. Depending on the size of a rear pocket, it may or may not fit into a pants pocket and is sometimes carried in a coat pocket.
Features
This workhorse of a wallet has the capacity to do lots of things such as:
Be a card holder supreme. Sometimes with multiple pages of quick access slots, the capacity could be a dozen cards and/or ID's.

A pocket or two for cash and other miscellaneous items.

The best quality wallet in this category will have fine leather for many years of use but because of the large number of items it will carry, it may also wear quickly from the weight.
Who Should Buy a Hipster?
Despite the name, you don't have to be trendy to own one of these. Those who travel for business may find this useful if their travels take them to foreign countries. The key here is knowing how many cards need to be carried on a regular basis.
8) Chain Wallet
If you take any wallet and attach a chain to it, you have the idea. The chain is then typically attached to a belt loop to insure it never leaves the person carrying it.
This style of wallet became popular after the biker crowd embraced it. It is a great way to keep a wallet close at hand even when riding a motorcycle on a bumpy road.
9) Zipper Wallet
This is generally a bifold wallet where a zipper encircles the open three sides of the wallet. It has to be relatively slim in order for the zipper to do its job.
These really do secure the contents of a wallet and may be useful for men who have lost cards or cash from previous wallets.
10) Checkbook Style
Take on old style checkbook cover and add a pocket for cash and maybe a couple of card slots, and you have the idea. While checks are becoming increasingly rare in stores there are still some individuals who have stuck to this way of paying for things.
While these are usually vinyl or plastic of some kind, there are some leather wallets in this style.
Buy Today
This is a great time to buy a new wallet and Conceal Plus carries the latest styles of men's wallets designed to protect your card data from prying scanners. Anytime you can find a sale, be sure to jump on these amazing wallets for men that are the best wallets available today.